D's Famous Salsa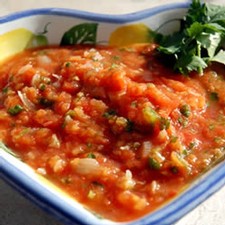 Recipe Date:
July 24, 2013
Measurements:
Imperial (US)
Ingredients
3 1/4 cups tomatoes
1 cup diced onions
4 tbsps cilantro
2 tsps parsley
1 tsp jalapeños
1 tbsp garlic, minced
Directions
Preheat the broiler.
In a medium baking dish, place tomatoes, garlic, onion and jalapeno pepper. Drizzle with olive oil.
Checking often, broil 5 to 10 minutes, or until outsides of vegetables are charred.
Remove vegetables from heat. Remove and discard tomato cores, jalapeno stem and garlic skins.
In a food processor, coarsely chop the charred vegetables. Transfer to a medium bowl and mix in cumin, salt, lime juice and cilantro.