Mint Pesto Pasta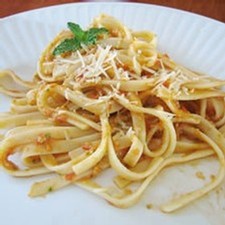 Recipe Date:
July 11, 2012
Measurements:
Imperial (US)
Ingredients
package uncooked linguini pasta
6 tomatoes, seeded and chopped
20 fresh basil leaves
10 fresh mint leave
2 cloves garlic, chopped
1/2 pine nuts
3 parmesan cheese
2 ricotta cheese
1 1/2 olive oil
salt and pepper to taste
Directions
Bring a large pot of lightly salted water to a boil. Place linguini in the pot, and cook for 8 to 10 minutes, until al dente. Drain, reserving 1 1/2 tablespoons water.
In a blender or food processor, blend the reserved water, tomatoes, basil, mint, garlic, pine nuts, Parmesan cheese, ricotta cheese, olive oil, salt, and pepper until smooth. Toss with the cooked pasta to serve.