January 3, 2014 | Harvest, Production | Brent Johnson
2009 Vintage Finally Takes Shape
The last wine of the 2009 vintage has finally taken shape. With a renewed emphasis on our Cabernet heritage our small-production wines take precedence and our largest production wine, the Pinot Noir, had to wait.
Numbering now at about 1,000 cases, the 2009 vintage of Cabernet will be released in April or May of this year. What began in my head as an 80%+ Cabernet blend (a little bit of Cab Franc, Merlot, and Petit Verdot in there to get to 100%) ended up in my glass as a 100% Cab comprised of six different clones from four different vineyards.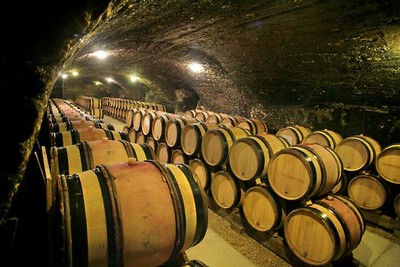 I drew samples from nine different barrel groups, taking wine from 2-4 barrels from each group depending upon how barrels are available. I then taste each grouping separately making notes about the wines. Next, I put together a representative blend of just the Cabernets as that wine would be the foundation for whatever other Bordeaux varieties might make the cut.
First impressions are important but hardly conclusive. I have made blends that I loved and got them home to taste them later and couldn't imagine what I liked in the wine. The same on the other pole. After making the Cab blends, I made a blend with the other varieties and let them sit while I went to get my son lunch.
Under the best of circumstances, I will have more than one blend that I like a lot. Then the questions become those of volume and the fate of the barrels that don't make this blend. Some of the folks on our hospitality team tasted the two wines that came out of this session, and the 100% Cabernet ended up being the unanimous favorite.
Right around the beginning of Spring, you'll be able to taste the 2009 Cabernet Sauvignon and tell me whether I got it right.
Comments
Commenting has been turned off.
Blog
Recent Posts
February 12, 2019

March 13, 2017

November 22, 2016

July 29, 2016

July 25, 2016

June 9, 2016

(98 Comments)

April 12, 2016

(181 Comments)

March 1, 2016

October 19, 2015

December 14, 2014

(1255 Comments)
Blog Categories
Our Writers
Blog Archives